Are you experiencing neck and shoulder pain from sitting at your desk for prolonged periods of time?
We understand the physical strain that can come from working on a computer, and we're here to help. Our comprehensive guide on ergonomic desk setup gives you a step-by-step method to adjust your setup for a comfortable and pain-free work environment. Say goodbye to discomfort and hello to productivity with our free guide. Just enter your email address below to receive your copy today.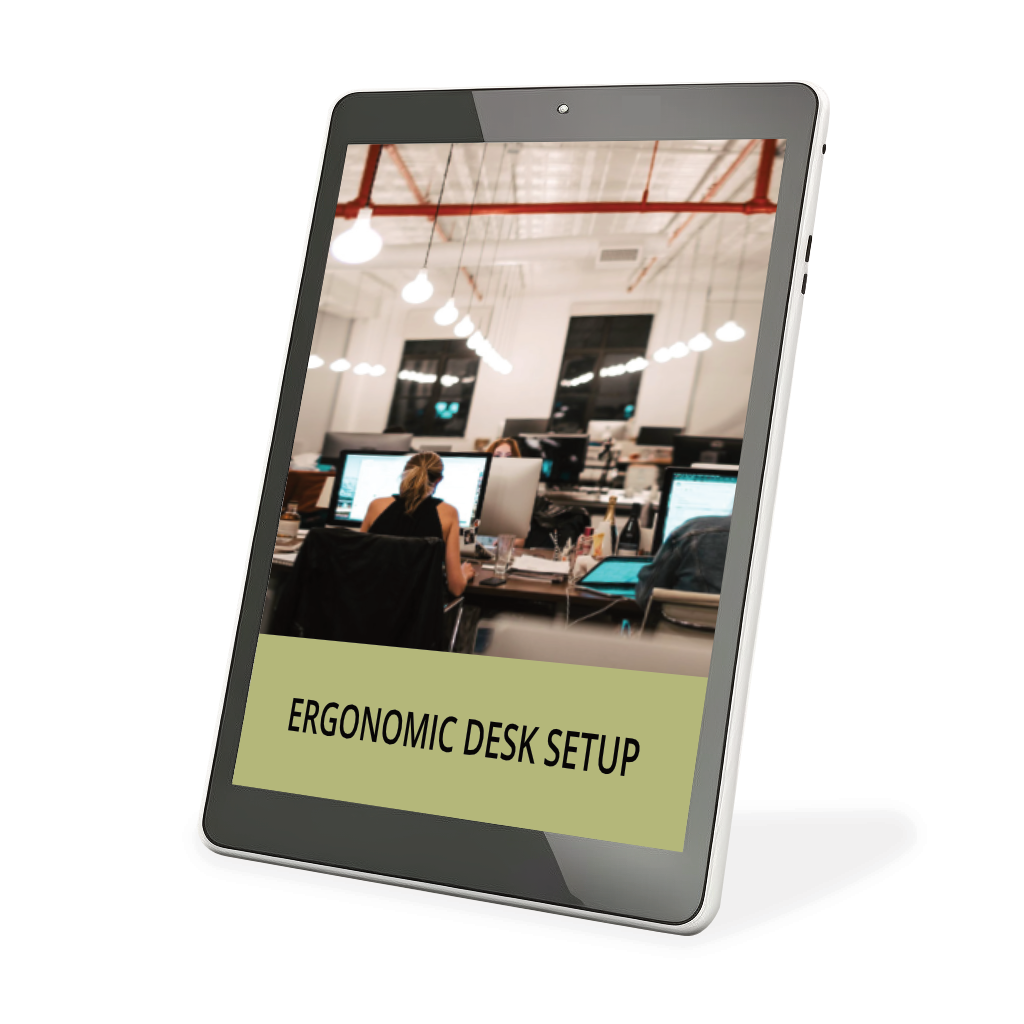 Transform your workspace into a comfortable
productivity centre.
Improve health, wellness and morale while reducing the costs of injuries. Get the expert help you need to make your workspace more comfortable.
Invest in your comfort and productivity
Aches, pains, and injuries are expensive, reduce productivity and affect your ability to enjoy life. But often, we don't know what is causing the pain.
An office ergonomic assessment of your workstation will help you eliminate injury risk factors, get you back to working pain-free and allow you to increase focus to improve performance.
You'll learn how to improve workstation use and optimize posture to promote healthy habits and aid in recovery from injuries. You'll save money on work-related injury costs and meet health and safety legislation requirements while improving workplace culture.
Special Bonus: receive free access to ErgoPrime's online Restorative Stretching Program that will reduce pain so you will sleep better, work better, and enjoy time with your family even more.
We offer services in French and English across Canada.
How Our In-Person Office Assessments Work:

Get an expert-led workstation assessment with on-the-spot fixes so you are more comfortable right away.

Pinpoint and erase pain-causing factors with the right solutions to enhance productivity and create a healthier workspace and eradicate pain.

Be empowered to feel your best with new habits and a wellness game plan.

Receive a clear and easy to follow report by email within 5 days that includes a detailed improvement plan, the right ergonomic products and where to get them.
How Our Virtual Office Assessments Work:
Like our in-person assessments, virtual ergonomic assessments help individuals suffering from on-going pain, injuries or who are healthy, eliminate ergonomic hazards, increase well-being and improve performance.

You share with us photos of your workspace so we can target your pain causing concerns.

Your ergonomist will meet with you privately on-line to identify injury risk factors and coach you through quick fix solutions to immediately improve your comfort.

You'll receive effective solutions to optimize your setup for ultimate comfort and productivity. When needed, ergonomic furniture or computer equipment to fulfill your exact need is recommended.

Tips on healthier posture and habits while working will help you get back to feeling your best.

You'll receive an easy-to-understand report with no-cost, low-cost solutions and essential products to increase your comfort immediately and deliver long term solutions for better health.
"ErgoPrime's involvement in return-to-work cases has enabled us to get injured employees back to work quickly. The monitoring program ErgoPrime put in place has ensured recommendations were properly implemented and positively influenced the employee's recovery."
Marie Faulkner, Facilities Manager - Natural Sciences and Engineering Research Council of Canada
Get Started
See how we can protect your most valuable assets, your employees.