Are you suffering neck pain from working on a laptop?
It's a common issue for many people who spend hours on their computers each day. But don't worry, we've got you covered. Our free guide, "The Top 3 Tips for Comfortable Laptop Use," is packed with helpful tips and tricks to help you reduce neck pain and discomfort. Simply enter your email address below to receive your free copy!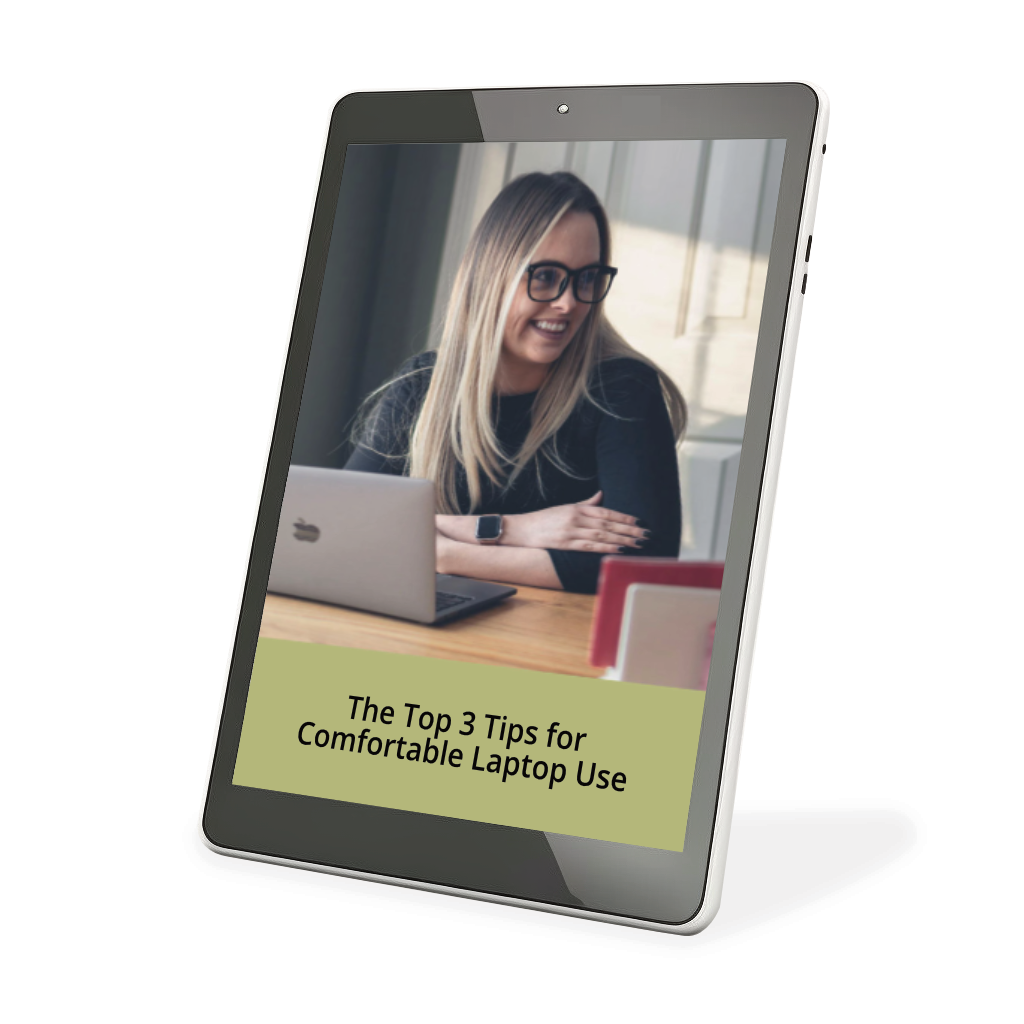 Are you experiencing discomfort while working at home?
Whether you work in a home office or an interim space in your kitchen, ErgoPrime's ergonomics experts can help you enjoy all-day comfort and productivity.
Improve health, wellness and morale while reducing the costs of injuries.
Ergonomics can improve any work environment and it doesn't have to be expensive – it often involves just making simple adjustments to equipment or workstation layout and offering instruction on proper work methods, to protect yourself and improve working effectiveness. When needed, ergonomic furniture or computer equipment to fulfill your exact need is recommended.
You'll save money on injury claims, fulfill health and safety legislation requirements and boost employee satisfaction and morale.
​Special Bonus: receive free access to ErgoPrime's online Restorative Stretching Program that will reduce pain so you will sleep better, work better, and enjoy time with your family even more.
We offer services in French and English.
ErgoPrime has two types of one-on-one home office ergonomics offerings.
A quick fix ergo coaching session is intended to confirm whether your office setup is ergonomically appropriate, make quick corrections and minor adjustments to enhance comfort and avoid injury. Ideally performed after our ergonomics training, ergo coaching is best suited for employees with no symptoms or mild discomfort. It's a perfect way to safeguard the health of yourself and/or your employees. Available virtually.
A home office assessment is designed for people experiencing ongoing discomfort or injury, which can impact work and home life. Available virtually or in-person.
Simply choose the level of service you need. You'll get quick fixes for your office setup that you can implement immediately then benefit from, delivering long term solutions for better health.
How Our In-Person Home Office Assessments Work:

Get an expert-led workstation assessment with on-the-spot fixes so you are more comfortable right away.

Pinpoint and erase pain-causing factors with the right solutions to enhance productivity and create a healthier workspace and eradicate pain.

Be empowered to feel your best with new habits and a wellness game plan.

Receive a clear and easy to follow report by email within 5 days that includes a detailed improvement plan, the right ergonomic products and where to get them.
How Our Virtual Home Office Assessments Work:
A virtual assessment is effective in improving your desk ergonomics and is much like an in-person assessment. Your ergonomist can easily see the problem areas on the video, coach you through adjusting your chair and desk setup, and provide simple effective fixes to lessen your pain, create a healthy workspace, and boost productivity.

You send us specific pictures and basic information about your work setup so we can tackle your top issues.

Your ergonomics expert will connect on a private, one-on-one video call to identify problems that are causing pain and offer proven ergonomic solutions so you can feel and perform at your best.

You'll benefit from the implementation of practical, on-the-spot changes so you experience increased comfort immediately. When needed, ergonomic furniture or computer equipment to fulfill your exact need is recommended.

Education on healthier posture while working will allow you to experience a renewal of overused areas of your body, offering the prospect of greater overall well-being.

You'll receive a straightforward report emailed to you within days, containing the action plan you need to create a healthier and more productive workspace.
Get the Expert Help You Need to Make Your Home Workspace More Comfortable.
Our expert led virtual or in-person home office assessment is designed to optimize the setup of your home office for safety, comfort and productivity.
Let us help you get back to feeling your best. Contact us today to book your home office assessment.
Do you have health care benefits?
Many health care insurance plans will reimburse you the cost of your ergonomics assessment when performed by a recognized medical health care professional such as a Registered Kinesiologist. A referral from your family doctor may be required by some insurance providers. Please contact us with any questions you may have.
Get Started
See how we can protect your most valuable assets, your employees.